Enrol on your course for the MAT paper, Oxbridge interviews or STEP exams II, III.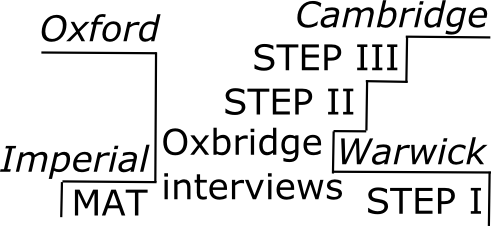 This picture is only a rough guide to UK entrance exams.
How the correspondence courses work
When? You could flexibly start the MAT, Oxbridge and STEP courses almost at any time.
Materials: you get printable notes with problems, hints, solutions, homework by e-mail.
Homework: scan your script or use a photo camera or post a paper copy to the office.
Interactive web tutorials can be practiced at any time in parallel with your course.
No deadlines: you may choose to work through topics in your own order and feel free to submit your homework when you are ready, because any late homework is marked.
Feedback: your script is electronically annotated, comments are e-mailed individually.
E-mail support: you get answers to your questions within few hours during the daytime.
Extra help: if you prefer talking through questions, ask us about Skype-like sessions.
Back to Top of this page | Back to Maths home
How students self-learn on the courses
Problems in the notes are similar (not identical) to past exam questions, so you will learn more from these problems than by trying only the available past exam questions (only the Oxbridge course has original questions from past interviews).
General hints on each problem help to get started in a right direction.
Step-by-step hints on problems will help if you are stuck in a problem.
You may compare your attempt with step-by-step solutions in the notes.
Common mistakes of students in long problems are anonymously reviewed.
Each solution is concluded by tips that may help in many similar problems.
Even strongest students who feel that they completely solved their problems often gain only 80-90% because of logical gaps in mathematical arguments.
An average score of 75-85% over all homework problems in a course can be enough for a grade 1 in STEP or for an Oxford offer by the past experience.
Comment from a student (not ours): I got 9 full solutions in STEP, I only got 105. Our reaction : it is enough to properly solve 6 problems (20 marks per problem) in STEP to gain the full mark of 120, but some students feel a bit over-optimistic.
Back to Top of this page | Back to Maths home
Key benefits for motivated students
You may individually approach every training problem: try without hints, then use general hints or step-by-step hints.
All homework and mock exams are electronically annotated, students receive individual tips based on their performance.
The key value is not the course notes, but detailed feedback on regular homework. Our students learn by doing problems.
If a student gains less than 80% for a homework problem, they may re-submit, possibly another similar exam problem.
Extra mathematical questions on the courses are quickly answered. To check the excellent response time, contact us
Each web tutorial is split into 4 questions with randomised parameters. Gradual hints emerge if wrong answers are submitted. Step-by-step solutions are provided.
At each attempt on the same quiz you will get a similar question with new numbers and could practice a lot to master all ideas.
Back to Top of this page | Back to Maths home
How to enrol on preparation courses
Download sample notes for free, so you can start right now, e-mail us your first homework, which is marked for free.
All students who were motivated to do the first homework received detailed feedback and enrolled on their courses.
E-mail us or simply complete the on-line contact form
Create a new account on the login page and please use your real name for this self-registration.
Try the free web tutorial Beyond Pythagoras' theorem (log in, click on the tutorial, on enrol me in this course).
Even very best Oxbridge candidates may often struggle with the logical concepts of necessary and sufficient conditions, which are explained in the tutorial on Pythagoras' theorem.
Pay for your course to receive all printable notes and get the full access to relevant web tutorials
Back to Top of this page | Back to Maths home
Prices, payment options and discounts
Prices: MAT paper, Oxbridge interviews, STEP I STEP II, STEP III.
The fastest way for international students: direct transfer to our business account, say a bill payment via internet banking.
If you prefer paying via PayPal, you will get a PayPal invoice and then our quick confirmation after receiving the payment.
Or you could post your cheque to the office address. If your school can contribute to the cost, they can complete an invoice.
The extra 10% discount on any next course if you enrol not later than a week after finishing your previous course.
The 20% discount on any course for two or more students from the same school.
The 20% discount for UK state schools that can't help you with costs.
If you still can not afford courses, contact us: lite versions can be offered, because the ultimate success of our students is more important for us than money.
Back to Top of this page | Back to Maths home